Virtual Community Choice Solar Info Session TONIGHT 9.21.2021 @7:30pm
Posted on: September 21, 2021 - 9:33am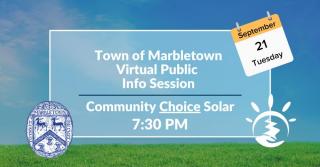 Hello Marbletown community members,
It is with great enthusiasm that we write to update you on recent developments in Marbletown's journey toward becoming a more sustainable community while bringing energy savings to its residents.
As many of you already know, through Hudson Valley Community Power (HVCP), Marbletown has been participating in a Community Choice electricity supply program since 2019, which allows the town to offer a fixed-rate for competitively priced, 100% NYS renewable electricity supply. The Program is made possible by using an "opt-out" aggregation model, in which the Town leverages the collective buying power of its residents and small businesses to receive a competitive deal on electricity for everyone eligible and then offers the option to opt-out of the Program offering at any time.
We are now able to add a second type of "opt-out" offering to complement the first. This new offering is called community choice solar. Community choice solar brings the benefits of community solar—including guaranteed electricity bill savings—to homeowners, renters, and small businesses without requiring them to go through the usual hurdles of community solar (signing an individual contract, credit check, and paying a second bill).
But what is community solar exactly?
Community solar programs allow utility customers to access the benefits of solar power without having to install solar panels. By subscribing to a local solar farm, participants will receive guaranteed annual savings on electricity while supporting local renewable generation and reducing carbon emissions in NY State. Community solar programs have no impact on who supplies or delivers your electricity. The only change to your monthly electricity bill is the solar credit that reduces your electricity bill payment.
How is community choice solar different from the "Community Solar" offering that Marbletown contacted us about last year?
Previously, in partnership with HVCP, Marbletown encouraged residents and small businesses to "opt-in" to individual community solar contracts with vetted providers because community solar is such a good opportunity. Earlier this year, it became possible to offer an "opt-out" version of community solar – called community choice solar - because single billing was approved for solar credits. This means that participants no longer have to pay two separate bills.
Now, just like the community choice electricity supply program offering, residents and small businesses participating in community choice solar:
• will not be subject to individual contracts
• can opt-out of the offering at any time
• will only have to pay a single bill (from Central Hudson) for electricity and the solar credits.
Not everyone is eligible for community choice solar. If you already have your own solar panels or are subscribed to a community solar farm, you are ineligible for the program. Once the solar farms are selected. all eligible residents and small businesses will receive a letter in the fall on municipal letterhead, explaining the offering and the options to opt-out.
If you still have any questions, we invite you to check out the informational page on both the Town of Marbletown website and Hudson Valley Community Power website. You can also call the Program Helpline at 845-859-9099 Ext 2 and speak directly to someone from the HVCP team.
There are also an upcoming virtual Question & Answer meeting. No registration is required, just click on the meeting link below to join at the time of the meeting:
● Tuesday, September 21, 2021 at 7:30 PM - Meeting link: www.tinyurl.com/Marbletown21Sep
If you would like to view the previously recorded presentation from August 18, click this link: https://youtu.be/LE_xBhJCTYg