Environmental Conservation Commission and Climate Smart Communities Task Force
__________________________________________________
Marbletown Low-Cost Climate Innovation
Recorded Presentation Sept. 19, 2022
________________________________________________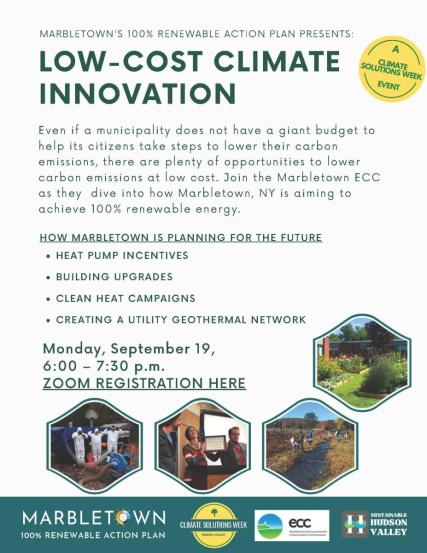 _______________________
_____________________
The Environmental Conservation Commission and Climate Smart Communities Task Force (ECC), an advisory commission, will meet at the Rondout Municipal Center at 5:30 on rotating dates (see calendar). The meetings are open to the public. Please consult the calendar on this website for meeting dates and times which are occasionally rescheduled.
 - The Environmental Conservation Commission was instituted pursuant to Article 12-F of the General Municipal Law of the State of New York for the purpose of advising the Town Board in the development, management and protection of the natural resources and environment of the Town of Marbletown, and shall promote community awareness and raise the visibility of such issues and activities. 
 - The Climate Smart Task Force was established by Resolution 40-2019 of the Marbletown Town Board to "Develop a strategy and work plan for establishing a baseline for the town's and community's current emissions, for recommending reduction targets, for identifying new strategies for reductions and energy efficiency, for recommending ways in which these strategies can be incorporated into the town's economic development and planning efforts, and for recommending ways for the town to implement these strategies."
| Member | Title | Term Ends December (Year) |
| --- | --- | --- |
| Tom Konrad | | |
| Alan R. Newman | | |
| Doug Adams | | |
| Lisa Giannico | | |
| Nikita Oarcea | | |
| Laura Ankler | | |
| Siddhartha Lama | | |